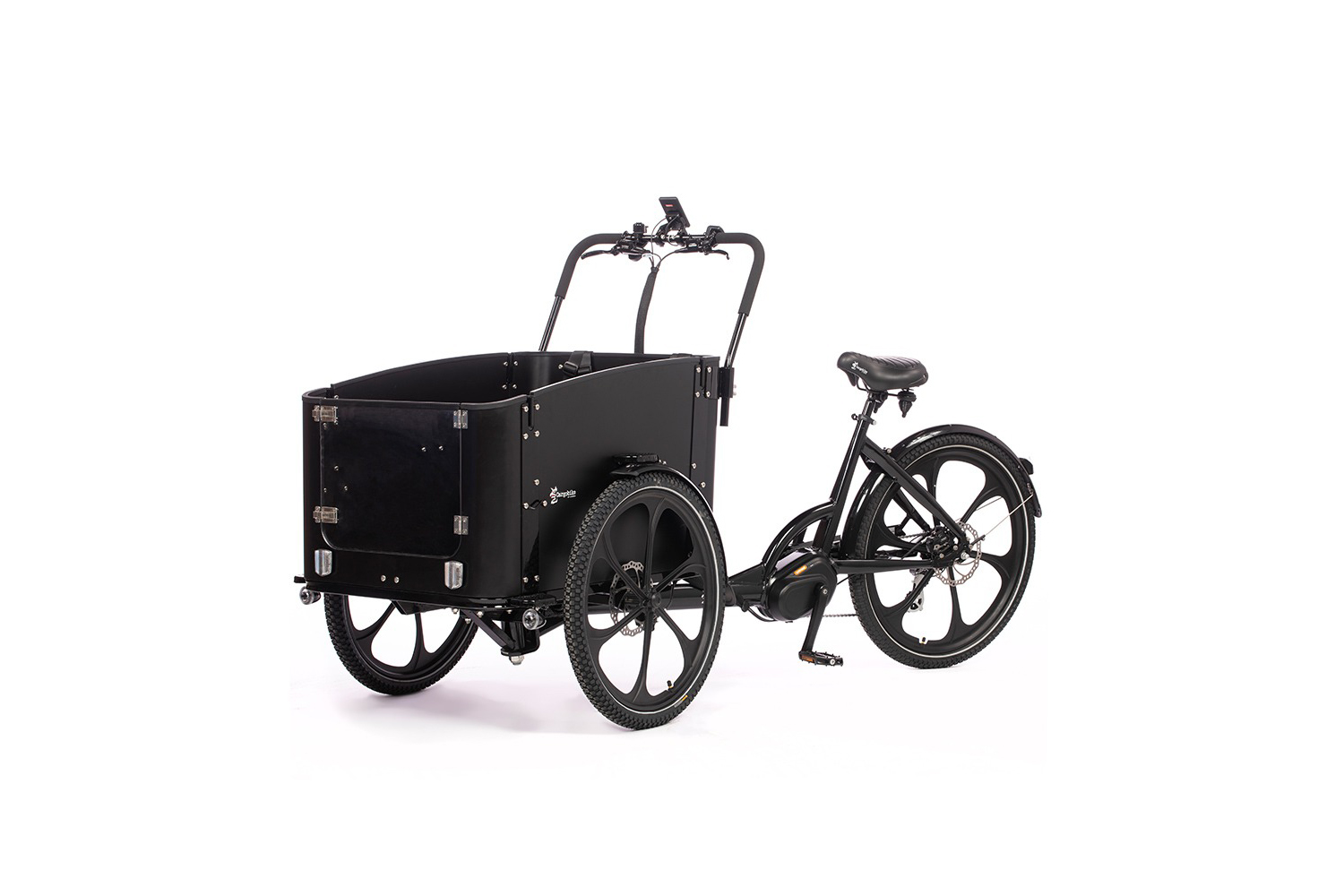 Cargobike Delight Dog 2022
DeLight Dog is one of the models in our DeLight series, which is our absolute premium-standard line of cargo bikes. This cargo bike is a convenient means of transport, both for dog owners and for those who need to load the bike without having to perform high lifts. The box has a softly rounded shape, with a transparent opening at the front that can easily be opened like a door. Your dog can jump into the box by itself and make itself comfortable. A DeLight Dog can easily replace many car journeys. Your four-legged friend will enjoy travelling through the fresh air, feeling the wind in their fur. 

DeLight Dog features a powerful Bafang mid-mounted motor with 80 Nm of power. The powerful battery has an estimated range of 30–60 kilometres. The motor senses how hard you are pedalling, and compensates the assistance level accordingly.
The box is fitted with a bench that functions equally well as a bench seat or a storage compartment. The bench is equipped with two safety belts, ensuring that children can also travel safely in the box. The wheels are made of cast magnesium, and are consistent with the rounded shape of the box. One major advantage of cast wheels is that they are maintenance-free, as there are no spokes to adjust. Gears are provided in the form of an external Shimano 8-speed gear system, and the shock-absorbing handlebars feature a useful USB charging socket. The rear frame is constructed with durable aluminium, and the battery sits well-concealed in a lockable storage compartment, reducing the risk of theft.


Cargobike is Sweden's largest supplier of box bikes, and we are represented by dealers all around the country. Our service network of selected workshops has in-depth knowledge of our bikes, and will help you take good care of your investment. 
Det finns en Cargobike för alla! Är du osäker på vilken modell som passar dig? Eller vad skillnaden mellan en Flex och en DeLight är?
På cargobike.se kan du jämföra våra olika modeller och hitta lådcykeln som passar för just dina behov.