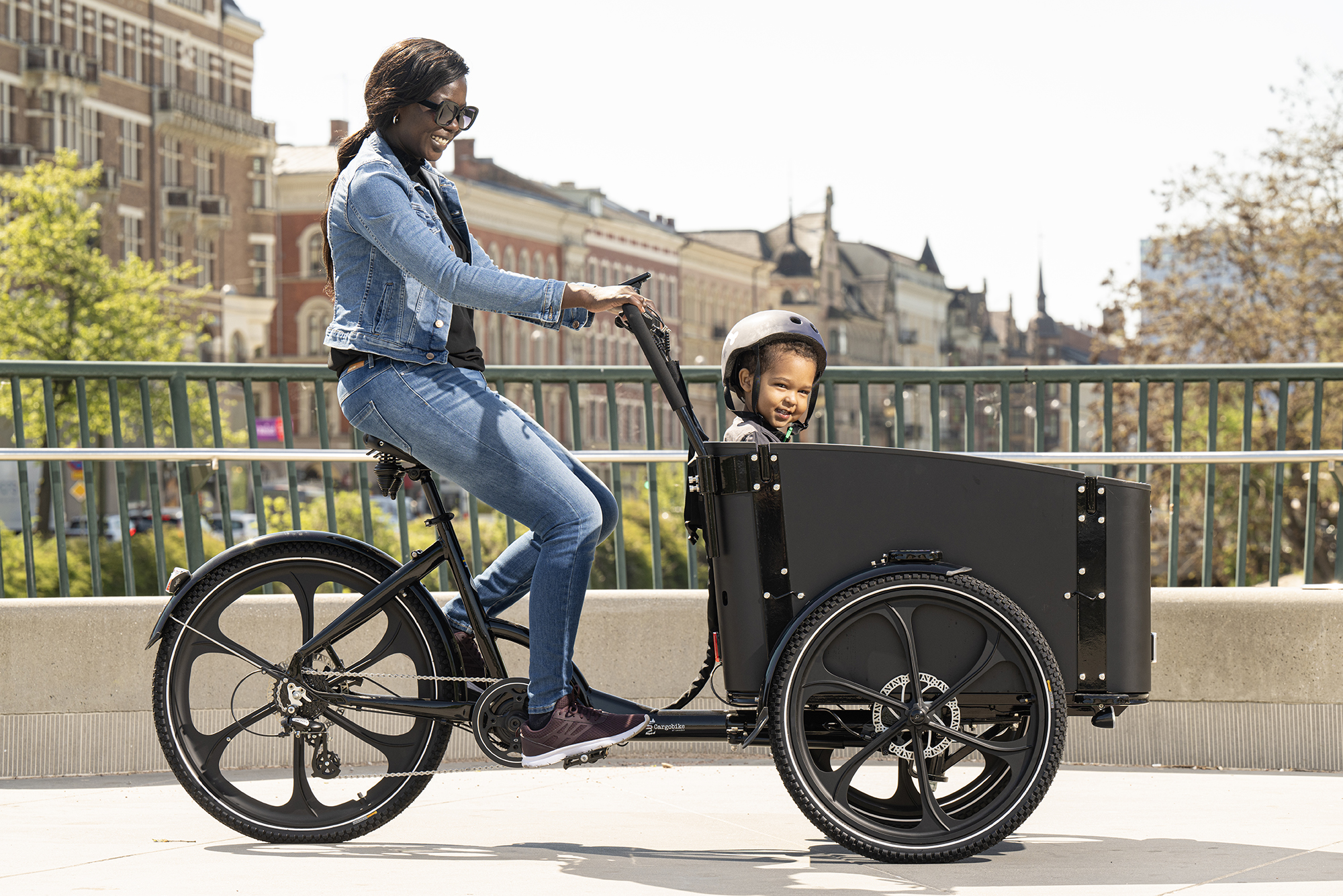 Cargobike DeLight är en av våra mest älskade modeller och vår absoluta premiumcykel. Det är en toppmodern lådcykel med väl genomtänka komponenter och utsökt design. Helt enkelt ett resultat av all den kunskap vi skaffat oss som Sveriges äldsta lådcykelleverantör. Med DeLight har vi utmanat oss själva och höjt såväl form som funktion ytterligare ett snäpp. For many families, businesses and commuters, this first-class means of transport provides a great substitute for car ownership.
Den starka mittmonterade motorn från Ananada med hela 110 Nm i styrka, är integrerad för minimerat underhåll. Motorn ger nästan dubbelt så mycket kraft i varje tramp jämfört med en bakmonterad motor.
Dessutom känner den av hur hårt du trampar och kompenserar assistansnivån. Med det kraftiga batteriet är uppskattad räckvidd mellan 30 – 60 kilometer. Batteriet laddas enkelt i ett vanligt eluttag. The handlebars feature a USB charging socket, and the bike is equipped with automatic lights at both front and rear.  
DeLight har bland annat ett utanpåliggande 8-växelsystem från Shimano, USB laddning i styret, hydrauliska skivbromsar fram och bak, kraftig styrdämpare. Bakramen i aluminium lutar inåt i kurvorna för säkrare cykling. Batteriet sitter väl dolt i ett låsbart förvaringsutrymme, vilket reducerar risken för stöld. I lådan finns säten med plats för upp till fyra säkert bältade barn, eller utrymme för rejält med packning, beroende på hur dina behov ser ut.  
Visuellt sticker DeLight ut med sina välkomponerade detaljer och lådans mjukt rundad form i lackad marinplywood. Helgjutna underhållsfria magnesiumhjul utan ekrar som följer lådans form, lyxigt kolsvart lack och välarbetade detaljer tar dig fram med lätthet och attityd. 
Cargobike is Sweden's largest supplier of box bikes, and we are represented by dealers all around the country. Our service network of selected workshops has in-depth knowledge of our bikes, and will help you take good care of your investment.  
There's a Cargobike for everyone! Unsure about which model that's right for you? Or the difference between Flex and DeLight?
Compare out different models at cargobike.se and find the box bike that suits your needs.